9 Best Beard Combs for a Neat, Untangled & Stylish Beard
This post may contain affiliate links. Learn more.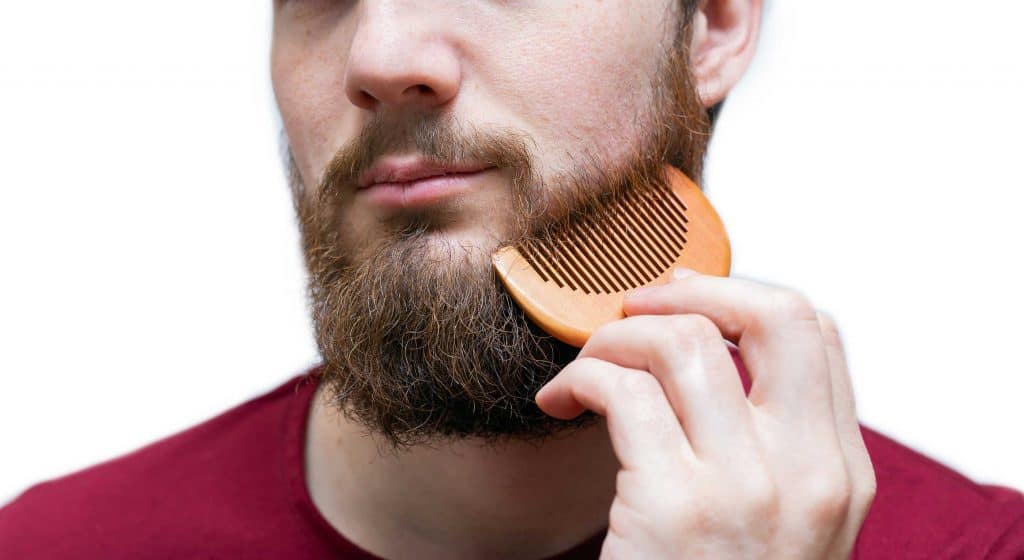 Every beardsman knows how unruly facial hair can get – and how difficult that makes taking care of it.
From styling and softening your beard to simply untangling and evening it out, a good quality comb is essential to any beadsman's arsenal. And that's exactly why we've put together this list of the best beard combs on the market.
See, choosing a beard comb can be baffling – how exactly are they different? And which one's better?
So we've put together a solid list of the best options for a variety of beardy needs.
In a hurry? Here are our top picks:
Baxter of California's Beard Comb
Our top choice, for example – Baxter of California's Beard Comb – is beautifully handcrafted with smoothly tapered teeth and rounded tips for comfort. It can be used for your beard, eyebrows, and mustache, and will be ideal for any man who needs to travel as it's extremely compact.
Kent Men's Handmade Comb
We've got plenty of other options, like Kent Men's Handmade Comb, which is great for men looking to get extra value, as it comes with 3 different combs – 1 for home, 1 for traveling and a special mustache comb, too.
So we've got you covered with everything you need to find the best beard comb for you.
But we're also going to show you the best way to use your beard comb; explain the key benefits of using a beard comb; explore the various types of beard combs, and discuss the differences between combs and brushes.
And before we do any of that, let's start with a few tips to consider when buying your beard comb.
Quick summary
<!—INSERT CODE BELOW—>

Best Overall

Baxter of California Beard Comb

Exceptional craft quality

Smooth teeth for comfort

Compact design

Check on Amazon

Best Value

Kent Men's Handmade Comb (Set of 3)

Excellently hand-crafted

Suitable for all beard lengths

Durable

Check on Amazon

Best for Durability

Airisland Dual-action Stainless Steel Beard & Mustache Comb

Minimizes static

Stainless steel design

Great for thicker beards due to its sturdy design

Check on Amazon

Seven Potions Beard Comb for Men

Handmade quality

Static-free

Wont tangle or tug hair

Check on Amazon

Beard Brush & Comb Set By Grow Alpha Beard

Portable and compact size

Reduces static

Comes with a beard brush

Check on Amazon

Badass Beard Care Black Series Fine Tooth Ox Horn Comb

Reduces static

Hand crafted

Great durability

Check on Amazon

The Art of Shaving Sandalwood Beard Comb

Great for thick beards

Two-sided design

Made from sturdy sandalwood

Check on Amazon

Kent 87T Brand New Limited Edition Folding Beard & Moustache Comb

Folds up for greater portability

Useful for all hair types

Handmade

Check on Amazon

Kent 81T Men's Extra-Small Handmade Beard/Moustache Comb

Handmade design

Very portable

Suitable for shorter beards and mustaches

Check on Amazon
Fortunately, there are plenty of quality beard combs available, and we suggest evaluating each according to the following criteria:
Before you buy: 7 Things to consider when purchasing a beard comb
Beards can be itchy, tangled and unruly. Men with a beard know how hard it is to keep it neat and tidy. If you have a long beard, the situation is even worse. Brushing your beard regularly is important to make sure that it grows in the right direction, preventing ingrown hairs and keeping your facial hair healthy.
Beard combs are an essential tool for any man with a beard. But what makes a good beard comb? Here's what you need to know about buying the best one for your needs:
1. What material is it made of?
Beard combs are made from a variety of materials, and the specifics of those materials are extremely important.
There are 4 common materials you'll encounter:
Wood combs are the most popular beard combs and for good reason. They are very gentle on beards, generally distributing oil very nicely, and they tend to be very durable – particularly if they're made from good wood, like bamboo.
Wood also doesn't tend to cause static, and that means your beard will look smoother and fuller as a result.
Metal combs are the most durable combs you'll find, and if you're looking for a simple long-term investment you should give them some serious consideration. They tend to be very lightweight and easy to use, but occasionally they will have sharp teeth that can create lots of static and really nick at your hair and skin – so beware!
Bone combs are uncommon, but you do occasionally come across them, and they tend to be very high-quality. Generally, they're thicker and heavier than other kinds of combs, and men with particularly tough beards will find a lot to love in them.
Plastic or synthetic combs are generally a cheap option because they're mass-produced. And while the quality is usually quite low, they can be a good backup comb. Watch out for jagged teeth and poor quality construction. But if you need to save a buck, they might be your best bet.
2. How was it made?
There are two basic ways combs are made: using a stamp press or by hand.
Stamp-pressed combs are made industrially, using an assembly-line machine that stamps them out in huge batches. This means they are generally cheaper, but also means the quality is far lower and they are more likely to break, as manufacturers often scrimp on materials.
Handmade combs are the opposite – made by a human being that carefully cultivates and crafts them. They are generally far higher quality and more durable, though you will inevitably pay a little extra for the privilege. You can expect fewer jagged edges when a comb is handmade, and probably more even teeth.
3. What is the teeth width?
The width of a comb's teeth is vital: it determines how they brush and what kind of beards they are best suited to.
Wider spaces in the teeth reduce the likelihood of pulling or tugging, though shorter spaces tend to be better for softer beards and distribute oil a little more evenly.
4. What type of beard hair do you grow?
It's always important to know what you're working with when grooming, and in this case, it's vital that you understand what kind of hair you have and what it needs.
Thicker hair requires a tougher comb, while thinner hair might be at risk of getting pulled or looking too wispy. There are also various idiosyncratic needs, like frizziness, which certain combs are specially designed to tackle.
5. What beard style are you going for?
As well as understanding the type of hair you've got, you should also be very conscious of what you're hoping to do with your comb. What sort of beard style are you after? What length and cut? Are there special styling requirements?
6. What shape and size do you want?
Combs come in a variety of shapes and sizes. And while it might not seem like that makes a big difference, the size and shape of your comb will impact a bunch of things, not least how easy it is to travel with it.
Some combs – like Kent's Handmade Combs for Men – come in numerous sizes. But most of the time, you'll have to decide what size best suits your needs.
The shape of the comb's handle also changes how it feels to use the comb; some have standard, straight handles whereas others have a curved design which more easily fits your hand.
7. Is it of great value?
We feel strongly that every purchase our readers make should be a great deal, so it's important that you're very aware of the market. Reviews like this one help you understand what can be expected at what price, and you should be very clear in your mind about what you expect to get for the money you spend.
The 9 best beard combs
Best features:
Handcrafted
Smoothly tapered teeth
Highly compact
The best beard comb for:
Men who want the absolute best
Overview
Baxter of California has been around since 1965, producing world-class men's grooming products that are informed by science and designed with maximum ease-of-use in mind. Their beard comb is as good as they come, and that's why it's clinched our top spot here.
First, let's admire the sheer craft involved in it: BoC handcraft their comb in Switzerland using high-quality cellulose acetate sheets and a detailed, 12-step process that ensures the final product is exceptionally refined and durable. The ultimate result is a beautifully compact comb that is a joy to use and does everything you could possibly need it to.
The smoothly tapered teeth and rounded tips achieve maximum comfort, ensuring there's no harshness on your skin and that every bit of your beard benefits.
Another clear benefit is its size: at 3.5" long, this is an exceptionally compact design, and that makes it perfectly easy to just throw it in your pocket or find space in a bag to travel.
It works great with all styling products and can be used to tame your beard, as well as your eyebrows and mustache. So not only is this a premium quality product, but it's also hugely versatile – a fitting first choice on any list of the best beard combs.
Pros
The quality of the design and craft is exceptional

Its teeth are extremely smooth for comfortable use

Its compact design is ideal for travel
Cons
The size will put some off
Bottom line
Our top choice for a reason: a beautifully handcrafted beard comb that you'll absolutely love.
Best features:
Smooth-cut teeth
Durable
Comes in a 3-pack
The best beard comb for:
Anyone looking for a versatile set of beard combs
Overview
A Kent Handmade Comb is a cut above the rest. Made by a British company that's been around since 1777, Kent promises and delivers products of high quality.
What's cool is that you can also buy them in a three-piece set that includes all the combs you need for the health and appearance of your beard, mustache, and scalp hair.
The set includes combs of three sizes, each of which is individually saw-cut and hand-polished and buffed to create rounded teeth that won't damage your hair.
The smooth teeth stimulate the natural oils of your facial skin and beard and help to distribute them evenly.
Each comb is made from cellulose acetate that doesn't cause static. Also, Kent leaves a rough saw-cut impression on the edge of each tooth that cleans dust from the hair while also stimulating the release of natural oils.
As you'd expect from a Kent product, the handmade comb provides the optimal balance between weight and balance. It simply feels good in your hand.
Pros
Superior handmade construction from a company that's been in business for well over two centuries.

Helps to stimulate the release of natural oils.

The 3-pack set offers excellent versatility and portability.
Cons
Not many, but some users say the gold lettering wears off with frequent use.
Bottom line
You can never go wrong with a Kent handmade comb as part of your grooming arsenal. It's gentle on your beard but robust enough to keep it well-styled and well-moisturized.
Best features:
Ideal for everyday carry
Anti-static
Built to last
The best beard comb for:
Men who prefer steel beard combs
Overview
It's hard to beat the durability of a stainless steel comb. A quality steel comb combined with proper care should last its owner for a lifetime.
Airisland's stainless steel beard and mustache comb is no exception – it's made to last. It's also portable thanks to its compact design, and you can carry it in your wallet or pocket without worrying about breakage.
That can't be said of all wooden or plastic combs, mind you.
The Airisand comb has other benefits, as well, including that it enables you to style your beard without causing static and static's inevitable frizziness.
Airsand's sturdy design makes it well-suited for use on thicker, coarser beards, and it has a fine-toothed side that's designed for use on thinner, finer beards.
Again, it's hard to beat the portability of this comb. It's about the size of a credit card, albeit a bit smaller, and you can bring it with you wherever you go.
Pros
Virtually unbreakable stainless steel design.

Compact and durable enough that you can take it wherever you go.

Glides through thicker, coarser beards without snagging or pulling
Cons
Some say the edges are a bit sharp.
Bottom line
A durable design that's built to last, easy portability – the Airisland stainless steel beard and mustache comb has a lot of offer, and it helps you to style and detangle your beard easily.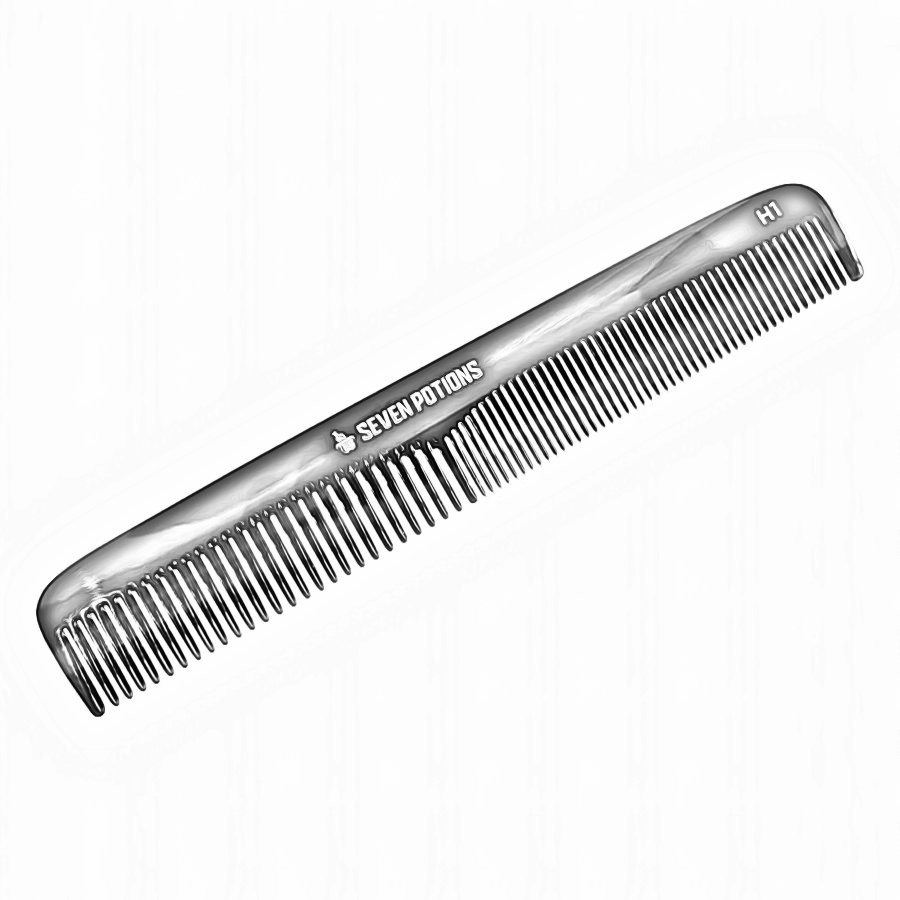 Best features:
Sawcut
Good for all beard types
Durability
The best beard comb for:
Men who want a comb that's good for use on all beard types
Overview
Like Kent, Seven Potions is an English company that produces excellent grooming tools, not the least of which is their beard comb for men.
The latter has everything you'd expect from a top-of-the-line beard comb and will enhance the overall health and appearance of your wonderous whiskers.
It will also make you even more willing to ditch your cheap plastic comb. Made from cellulose acetate, the Seven Potions comb is suitable for all beard lengths, thicknesses, and styles.
As with all cellulose acetate combs, it helps eliminate excess static while also evenly distributing natural oils (and manufactured beard oil, which we hope you're using) through the skin and hair.
On the flip side, it helps to pull excess oil from your beard, which is handy if your facial skin and hair tend to be overly oily.
It's also durable and waterproof and should last you a lifetime with the proper care. True, you'll pay a bit more for the Seven Potions comb than you would for other, lesser-quality combs, but it's well worth your investment.
Each Seven Potions comb is saw cut and hand polished and has soft, rounded teeth that won't damage your whiskers or irritate the skin underneath.
Pros
It promotes stronger, healthier, and shinier hair.

It provides a non-damaging combing action that won't damage the beard.

It's durable enough to last you a lifetime.
Cons
Some users wish the teeth were spaced apart more widely.
Bottom line
You'll enhance the overall look and health of your beard with tools such as the Seven Potions Beard Comb. Why settle for a cheap alternative?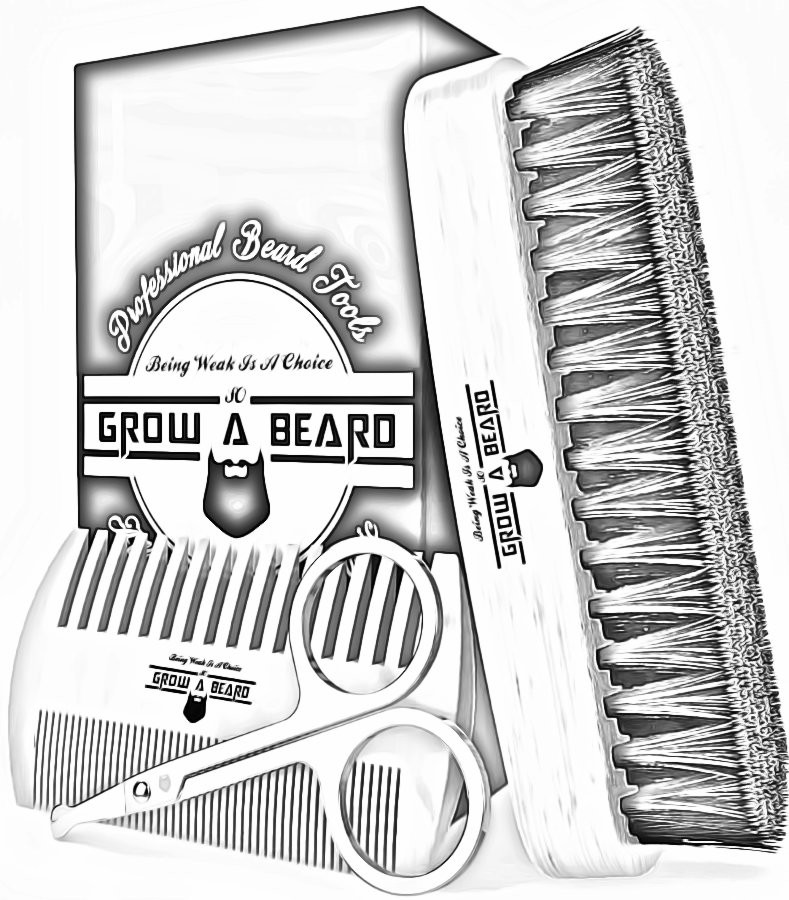 Best features:
Portability
Easy to control
Set also includes a beard brush
The best beard comb for:
Men looking for a comb that's good for all beard types
Overview
Many beards feature a design that makes them easy to take with you, and the Grow Alpha Beard Comb & Brush Set is one we really like.
The set includes a pocket-size comb that fits into your pocket or bag easily and is always ready when you are when it's time for a touch-up.
Made from bamboo, this comb is lightweight and helps to gently massage facial hair and eliminates tangles and static. It stimulates the production of natural oils in your skin while spreading those oils evenly throughout your beard.
The comb also reduces static that can cause frizziness and lead to knots and tangles.
Both the comb and brush come with a money-back guarantee; if you don't like them, send them back to Grow Alpha Beard for a full refund.
Pros
The compact comb design fits in your hand easily and makes for easy maneuvering through your whiskers.

Easy to take it wherever you go.

Helps to reduce static.
Cons
Perhaps too small for men with bigger hands.
Bottom line
The bamboo beard comb by Grow Alpha Beard offers everything you need in a quality comb. Don't let its compact size fool you.
Best features:
Hand made
Doesn't create static
Very smooth – for most users
The best beard comb for:
Those looking for something a little 'out there'
Overview
There's a lot to like about Badass Beard Care's Black Series – even the name has a sense of humor about itself. And while that sense of fun is greatly appreciated, it's actually the smart design of their Fine Tooth Ox Horn Comb that will most impress you.
You see, they've actually combined a sandalwood comb and an ox horn comb and created this crazed Frankenstein of a comb.
The spine of the comb is made of hand-carved Australian sandalwood, which is sanded and engraved and provides a super-strong, durable basis for the comb. But teeth themselves are hand carved from a solid piece of horn.
It's unlike any other comb you'll find and genuinely great to use.
The teeth are 0.75-1.0" while the comb itself is 4.33×1.87": it's a big boy, and it feels great to hold.
While the exotica of it is great, it does also actually perform: it will give you a very even, easy brush and avoids static. It's also very easy to keep clean and requires very little maintenance.
Pros
It's highly durable and tough

The exotic look feels very masculine

It's beautiful handcrafted
Cons
Some reviewers report a little tugging from the comb
Bottom line
This is an unusual and striking comb, sure. But it also does the job brilliantly and won't break the bank.
Best features:
Two comb widths
Easy to take with you
Durable
The best beard comb for:
Men with medium to longer-length beards
Overview
One of the few knocks against beard combs is their fragility. Yes, they reduce static and glide effortlessly through your beard – at least the good ones do, that is – but they can break more easily than combs made of other materials.
The Art of Shaving's Sandalwood Beard Comb, on the other hand, is durable enough that you can take it with you without worrying about it breaking. Made from Argentinian green sandalwood, it has a sturdy design and should last you a long time.
It's also two-sided – one side consists of wider teeth that are ideal for curly or wavy hair, while the other has finer teeth for straighter beard hair types.
Pros
It features a solid, durable design.

It comes with a leather storage pouch for added protection.

It has a pleasing sandalwood scent.
Cons
Not many, although it may work best on longer beards.
Bottom line
The Art of Shaving's Sandalwood Beard Comb is another good tool to have in your beard grooming kit. It's sturdy and can handle thicker beards without snagging.
Best features:
Stimulates the scalp and skin
Handmade
Good for mustaches, too
The best beard comb for:
Men who like folding-style beard combs
Overview
Back to our friends at Kent, who give us the Kent 87T Limited Edition Folding Beard & Mustache Comb. The latter is representative of the quality of Kent's comb as a whole, and also good for men of all beard hair types and thicknesses.
The 87T, as its name suggests, has a fold-up design that makes it easy to take with you no matter where you go. Like all Kent combs, it's saw-cut, then hand-polished and buffed to create rounded teeth that won't snag or damage facial hair.
Its teeth also help to stimulate the natural oils on the skin beneath your beard. In turn, those oils help hair to lie flat while creating healthy, strong, and shiny hair. And, the overall result is a beard that's free of split ends and tangles.
Pros
It consists of saw-cut cellulose acetate that's plenty durable.

The compact size makes it easy to take with you.

Will rid your beard of split ends and tangles.
Bottom line
Kent makes good combs … and brushes and other products. Its 87T folding comb is representative of Kent's high quality and is a great tool for helping beards reach their full potential.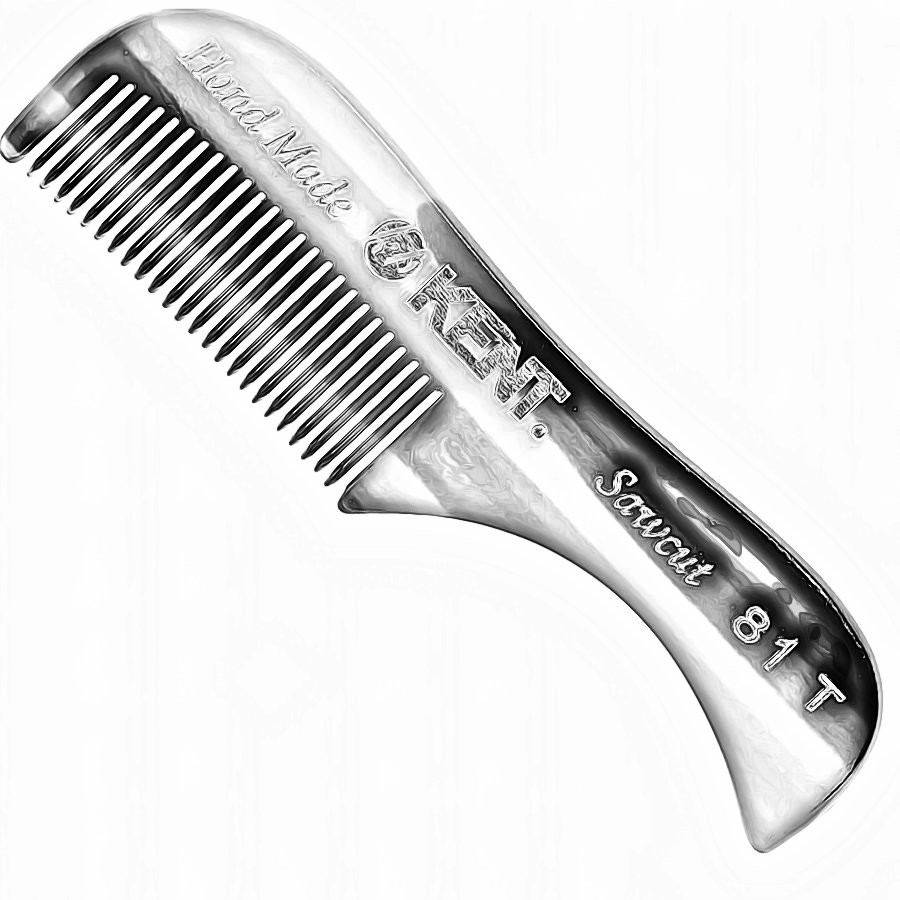 Best features:
Compact design
Gentle on facial hair
Saw-cut and hand-polished
The best beard comb for:
Men looking for an affordable, quality beard comb
Overview
Kent makes excellent beard and mustache combs, which we've already established. They also offer a wide variety of combs that come in different sizes and price ranges, and the 81T, which is available in the Kent comb set above, is worthy of its own review.
The Kent 81T is a compact comb – it measures 2.8" long by 0.5" wide – and budget-friendly, all while offering the kind of quality customers have come to expect from a premier men's grooming company.
The 81T consists of durable, saw-cut cellulose acetate that comes from large sheets of material and isn't injection-molded.
Its rounded teeth are hand-polished and buffed to help deliver gentle combing action, whether it's on your beard or 'stache.
You'll generate much less static than you would with many other combs, and it delivers all the force you need to get through stubborn knots and tangles.
The smooth teeth also help to stimulate the natural oil inside hair cuticles as you comb through your whiskers. You can use it with your favorite beard oil to deliver extra hydration and easy combing action.
The size of the 81T makes it ideal for carrying with you no matter where you go. It fits nicely in a pants pocket, and even in a wallet, which enables you to give your beard and mustache a touch-up whenever needed.
Pros
You can maneuver it easily around your mustache thanks to its compact size and design.

The comb is hand-polished and buffed to create soft rounded teeth.

It's ideal for styling thin to medium facial hair.
Cons
Not as effective on longer beards.
Bottom line
The Kent 81T is proof that good things sometimes come in small packages. You can take it with you and use it for occasional touch-ups no matter where you are.
How we chose these beard combs for our reviews
Quality beard combs abound, which makes choosing the best of the best something of a challenge. But we think our list provides a nice mixture of options for when you're shopping for a beard comb.
We wanted to include combs that covered the entire gamut of materials, from wood to metal to bone to cellulose acetate. We also looked at other factors, such as the quality of their construction, their durability, and price.
The right way to use a beard comb in 6 easy steps
Once you've purchased a quality beard comb, you've taken an important step toward a healthier, better-looking beard.
You still have to put the comb to work, of course, and – while it's not overly-complicated – there are a few things and techniques you should keep in mind.
1. Make sure your beard is clean
Always clean your beard before you comb it. We recommend using a quality beard wash or shampoo, and not the same shampoo you use on your head.
The latter is designed, in part, to wash away oils on the scalp, which can lead to greasy-looking hair. But you don't want to wash away the natural oils produced by your facial skin.
After you've washed your beard, dry it by patting a soft towel over your whiskers until all the excess moisture is removed.
2. Getting started
Begin using the comb by holding it with the teeth pointed upwards. Start at your neckline and work your way up to the chin and beyond. Combing upward at the start separates the hair and helps to "fluff" out the whiskers. In turn, that makes them easier to style later on.
A few words about combing your beard under the chin:
You may run into snags under your chin more readily than you do above it. To lessen potentially painful tugging and snagging, you can sprinkle some beard oil onto your comb.
Spend a little extra time on the growth below your chin, if needed.
Comb slowly and carefully to avoid snags.
Only reverse the direction of the stroke after you've fluffed the hair out sufficiently.
3. Hitting snags
A couple of other thoughts about dealing with snags: first, never try to tug and pull at the snag to get rid of it. In most cases, it's just a couple of hairs that have crossed over each other.
Be gentle when you encounter a snag. Comb slowly through it, taking multiple strokes if needed, until you've loosened it enough that it becomes undone.
And, remember, beard oil will help make the process easier.
4. Use a lighter touch
The same rule that applies for combing through snags applies to all areas of your beard, i.e., you don't need to grip the comb with such force that your knuckles turn white. Instead, hold it with enough force that it won't fall out of your hand.
5. Combing and styling your beard
Once you've separated your beard hairs and "fluffed" them out, it's time to reverse direction and comb the hair down while styling it in the way you prefer. And don't forget your mustache (or the areas around the mouth where mustache and beard hair can intrude).
6. Maintaining a beard combing schedule
You should comb your beard at least once a day and no more than three times. How often you comb it depends on the coarseness and unruliness of your whiskers. Be careful not to over-comb your beard, which may damage it.
Why you need to use a beard comb (4 benefits)
Beard combs help enhance the overall health and look of your beard, which our reviews of the best ones help validate. Here's a look at a beard comb's benefits:
1. Prevents ingrown hair
Regularly combing your beard will help to keep ingrown hair at bay. Ingrown hair, in which individual whiskers have curled and grown under the skin, can be painful – as anyone who's experienced it can testify.
Combing your beard with a quality beard comb helps to train hair to grow in the right direction, and not beneath the surface of the skin.
2. Keeps your mouth clear of whiskers
Training your beard to grow in the right direction includes keeping whiskers from protruding into your mouth. That's an aggravation, and it can result in food getting trapped in facial hair. That's not a good look, and it isn't sanitary.
3. Helps to moisturize the beard
Regular combing helps to distribute your beard and skin's natural oils, which keeps your beard moisturized and healthy.
We always recommend using a quality beard oil to maintain the overall health of your beard, and a beard comb makes it easy to spread beard oil evenly throughout your whiskers.
4. It trains your beard
We don't mean "train" your beard like a fitness instructor trains his students, but to train it to grow in a way that aligns the hair properly. A beard in which hairs grow in a uniform direction will look fuller and more masculine.
The various types of beards combs you should know about
We talked earlier about different types of beard combs – at least in a roundabout way – in our earlier section about what to look for when buying a beard comb.
In general, the four main types of beard combs, based on the material from which they're made are:
Wooden – Wood is a popular material used in beard comb construction, and it's gentle on beards because its saw-cut and the teeth are polished and rounded to get rid of rough edges. Wood combs don't produce a lot of static, either. The only downside is that wood is a bit more fragile than other materials used in beard comb construction, but should still last you quite a long time with proper care.
Metal – You don't have to worry about durability if you choose a metal beard comb. They typically feature a thin, minimalist design that's surprisingly lightweight and easy to maneuver through your beard. If nothing else, they should last you a lifetime. They do cause a bit of static, however.
Bone – Bone, or horn, combs aren't as readily available as wooden or metal combs, but they've gained popularity. They're hand-polished and provide a very comfortable combing experience.
Plastic/synthetic – The best type of synthetic beard combs consist of cellulose acetate and are stamp-cut and hand polished to provide the smoothest of cutting edges. They're also durable. Avoid plastic combs, which generally are cheaply-made and rough on whiskers.
Another type worth mentioning is the heated beard comb. Heated combs are just that: they feature a heating element inside that helps the comb straighten curly beards that defy the efforts of standard beard combs.
Arkam Deluxe Beard Straightener for Men is a heated comb that many customers love.
You can also break beard comb types into their various designs: pocket, straight, folding (or switchblade), etc. Pocket combs, as you might expect, offer the best portability.
Beard combs vs. beard brushes: Differences, advantages, etc.
Beard combs aren't the only game in town regarding men's facial hair grooming. Another important tool is a beard brush, and your beard-care kit should include a brush as well as a comb.
Which also leads to questions such as, "Which one should you use?" "When?" "What are the differences?"
Let's take a deeper dive.
1. The basics – beard combs
We've already talked at length about beard combs and their many benefits. A comb, unlike a brush, features teeth that you guide through your hair to style it, remove tangles, distribute helpful oils, and more.
Because it has teeth, a comb is well-designed for working its way through long beard hair. The good ones won't snag or pull at your whiskers, and they'll enable you to work your way gently through knots.
You can purchase beard combs in a variety of materials, from wood to metal to plastic to cellulose acetate. Each material has its advantages and disadvantages, and which one you choose depends on a variety of factors, such as the length of your beard and budget.
A beard comb is useful in another way, too: you can use it as a guide as you're trimming your beard, especially when using beard scissors. With your comb, you can isolate sections of your beard for trimming – just as a barber uses a comb when trimming your scalp hair.
Beard combs also come in different sizes and designs. Many of them are compact enough that you can carry them with you easily, which enables you to do "touch-ups" on the go.
Beard combs: advantages and disadvantages
There's a lot to love about beard combs, and every self-respecting beardsman should always have one at hand. Or, at the least, always one in his grooming kit.
Besides the beard comb benefits we've listed above, another advantage of using one is that it's excellent for styling longer beards. The comb's teeth need a reasonable amount of hair to work with, and that makes it ideal for detangling longer beards.
A comb eliminates the pain of having to drag a brush through the often unruly territory that makes up a long beard. A brush is more apt to get caught on knots and tangles, and that can be an unpleasant experience, to say the least.
The teeth in beard combs also tend to generate less friction than brush bristles. You can also use combs on a wet beard because it can work out the knots and tangles without causing damages. A beard brush, on the other hand, is best reserved for dry beards.
But beard combs don't work as effectively as brushes for styling and managing shorter beards, and that's probably the biggest difference in all.
2. The basics – beard brushes
The typical beard brush comes with a handle (often made of wood), and bristles, such as you'd expect from any type of brush.
One important difference between beard brushes and regular brushes, such as those you'd use on your scalp, is that beard brushes often have bristles made of natural materials, such as boar hair.
A boar hair beard brush makes it ideal for distributing sebum, your skin's natural oils, throughout your beard, and for spreading beard oil that you buy.
The idea is to make sure the oil is coated evenly from root to tips, which makes your beard more hydrated, more manageable, and healthier.
While many beard combs have handles made from wood, other types of materials are used as well, including metal, horn or bone, and plastic.
Beard brushes – advantages and disadvantages
There's no harm in saying it again: beard brushes are better for maintaining shorter beards than are beard combs. The bristles are denser and packed together more tightly and can get tangled up in long hair.
One of the key benefits of a beard brush is that it does a great job of cleaning the beard. Let's face it; beards can be a magnet for food, grime, and dust, and keeping them clean requires a good beard shampoo or wash.
But a beard brush helps clean a beard and is better at removing debris that a comb may not get otherwise.
Beard brushes also help to exfoliate the beard, i.e., remove dead skin cells that everyone accumulates daily. Those cells can lead to itching and beardruff and leave the beard looking dull and lifeless.
Most grooming experts agree that beard brushes do a better job of training beards than a beard comb. The densely-packed bristles create enough friction to draw individual beard hair back into line, which means your beard looks better overall.
And, as mentioned, beard brushes do a nice job of distributing oils – natural or otherwise – over beard follicles. In other words, a beard brush is an excellent conditioning tool, and it helps to give your whiskers a natural shine and softer look.
So, which one should I use?
Perhaps the best answer is: "Why not use both?" While the general rule is that brushes work best on shorter beards and combs better on longer ones, and each comes with a unique set of benefits, there's no reason not to have both.
Even if you have a shorter beard, for instance, it's always helpful to have a beard comb handy to serve as a trimming guide.
Either way, the best beard combs, and brushes are built to last. Buying both now represents a wise long-term investment.
Conclusion
One of the many advantages of growing and maintaining a beard is that there are plenty of tools to help you along the way. Beard combs are a great example and have many benefits for helping you to attain the kind of beard you want.
We'd also love to hear from you. Do you have a favorite beard comb? If so, what do you like about it? We welcome your feedback and suggestions.