6 Best Beard Brushes That Will Make Your Beard Majestic
This post may contain affiliate links. Learn more.
In a hurry? Here are our top picks:
Beard brushes might not be the most popular product in men's facial hair care, but many understand how important they are in order to style and keep their beards controlled.
If you are reading this article, you probably know this, and you are probably looking for the best beard brush to tame your manly mane.
Well, look no further! We did all the hard work to make it easier for you.
We've put together some of the very best beard brushes on the market, taking into account all the different needs you might have. For example, price, thick beard, etc. But there's more!
If you are new to the beard care gang, then we also have your back.
We've also included what you should look for before buying a beard brush and also a guide that explains how to brush your beard properly.
As a bonus, we've also compared the differences between beard brushes and beard combs and explained why using a brush is beneficial for your facial hair.
Let's get right into it.
Quick summary
Best overall

Seven Potions Beard Brush for Men

First-cut boar bristles

Easily removes tangles

Not irritating

Check on Amazon

Best for thicker beards

ZilberHaar Pure Boar Bristles Beard Brush

Bristles are made of 100% boar hair

Lifetime guarantee

Extended pearwood handle

Check on Amazon

Best for shorter beards, affordable

Austin & Tyler Beard Brush

Portable, non-bulky product

Very soft

Affordable price

Check on Amazon

Best beard brush kit for beginners

Billy Jealousy Beard Envy Kit

Comes with a beard wash and beard conditioner

Gets rid of tangles and knots

Value for money

Check on Amazon

Best vegan

ZilberHaar Vegan Beard Brush

Extended handle for easy use

Vegan plant-based bristles

Premium craftsmanship

Check on Amazon

Best for mustache

Kent BRD2 Boar Bristle Beard Brush

Eliminates knots and tangles

Sleek design

White boar bristles

Check on Amazon
Before you buy: 5 Things to consider when purchasing a beard brush
There are several things you should take into consideration before buying a beard brush. In this section, we take a look at those things.
1. The material
Beard brushes are usually constructed with either some type of wood such as pearwood, walnut wood, etc., or plastic.
Wooden brushes are usually of higher quality and thus, usually more expensive.
The choice here is a personal preference. However, note that plastic brushes are often very cheap in terms of quality.
When it comes to beard brushes, you get what you pay for. cheaper brushes are typically made with low quality materials that often don't do much to make your beard feel softer and look better.
Though there are many more expensive beard brushes on the market, we recommend that you set your sights on a mid-range option – one that offers good value with a reasonable price tag. We hope that this article helped you identify the best beard brush for you and left you feeling confident in choosing one without breaking the bank.
2. The bristles
A beard brush's bristles can either be natural, synthetic, or plant-based.
Natural bristles are made with either boar's hair or horsehair. They are more effective (than synthetic) in spreading the natural oil of your beard, making it feel softer. This results in a healthier and shinier look.
Synthetic (nylon) and vegetal bristles are great for men who are looking for solid cruelty-free or vegan alternatives.
Natural bristles usually last longer than synthetic or vegetal ones, as they are the real thing. More time and craftsmanship are spent in creating them. This, however, makes them often more expensive.
3. Stiffness
The stiffness of a brush is determined by the bristle material. Both softer and stiffer bristles have advantages and disadvantages.
Stiffer bristles do a better job in distributing the oil on your beard while also helping detangle and straighten out split ends due to their rigid characteristics.
Softer bristles, such as horsehair, are better for people who have sensitive skin and need something that is gentler when brushing.
If you are looking for a stiff beard brush, look for ones that are made of boar bristles, nylon, or vegetal. Out of the three materials, boar bristles are not as irritating to the skin due to their natural qualities.
4. The handle
The handle of the brush is what you'll be using to hold and guide the brush through your beard. This part needs to be comfortable in your hand, so it's best to choose a brush with a handle that feels natural to you. You might want to invest some time trying out different brushes to see which feels most comfortable in your hand before choosing one.
Some beard brushes have a handle that extends from the body, while others, like the brush you use to shine your shoes, are without one.
Each style has advantages and disadvantages, and your choice ultimately boils down to personal preference. Go for whatever feels better in your hands.
However, as a general rule of thumb, beard brushes with extended handles are usually easier to use on thicker and longer beards.
5. Price
Remember, there is no need to spend a fortune to buy the most premium beard brush on the market. There are plenty of good options that will perform equally at reasonable prices.
However, usually, the higher the price, the better its craftsmanship which means better longevity.
But, it is up to you to decide whether the extra quality is worth your hard-earned money or not. Going somewhere in the middle can provide the best of both worlds: affordability and quality.
Now, on to our reviews.
The 6 best beard brushes
What stands out about this beard brush
100% boar bristles
Great stiffness and bristle density makes it suitable for a variety of beard types
Premium craftsmanship
The best beard brush for
Anyone who would like a well-balanced brush that is suitable for most beard types
Overview
A beard brush with limp bristles is like…well, you get the picture.
The bottom line is that the bristles on your brush must be stiff enough to A) untangle your whiskers and B) distribute the natural oils of your skin throughout your beard.
Seven Potions is a respectable brand as they have one goal in mind. To provide the best products without compromising on quality and performance.
Seven Potions provides everything you want in a good beard brush with their Seven Potions Beard Brush for Men.
Let's start with what materials this brush is made of and continue with its performance.
It has an oval handle that is constructed of pear wood and fits pleasantly in your hand. Holding it feels premium which, is the result of its detailed craftsmanship.
It's not too big or too small, making it suitable for beards of different lengths and thicknesses.
What sets this brush from the rest, however, is the quality of its bristles. They are 100% boar bristles that are first cut.
What does it mean?
The bristles are cut from their firmest parts and not from their tips, where they lack stiffness. This offers better effectiveness.
They provide a good stiffness while not being very irritating to the skin. They have excellent density, allowing brushing without tugging while at the same time removing difficult tangles.
While the bristles were firm, they were flexible enough, bending just slightly, avoiding pulling or ripping the hair.
Due to the excellent bristle density, it does a great job spreading the natural oil, and other beard products, such as beard balm, beard oil, etc., evenly.
But like everything in life, it has some drawbacks. If you have a super long or thick beard this might not be the one for you. Due to its thick bristle density and its lack of an external handle, you might find it difficult to brush properly. In this case, consider using the ZilberHaar Pure Beard Brush. It has an external handle for easier maneuvering.
The good
Effectively detangles the beard

Stiff but not irritating bristles

Great for spreading the oil and other beard products evenly

Great durability
The bad
There are better options available for long thick beards
Bottom Line
The Seven Potions Beard Brush can do it all: from detangling your beard to making it manageable and evenly distributing your skin's natural oils.
What stands out about this beard brush
100% boar bristles
Extended pearwood handle
Lifetime guarantee
The best beard brush for
Men who have a long and thick mane that can't be controlled
Overview
ZilberHaar Pure Boar Bristles Beard Brush has a romance story behind it. The company's CEO Anica Kath created this brush just to be able to kiss her husband as its beard was really tough and itchy upon physical contact.
Understandably then, this is a brush that has been crafted for the absolute serious beardsman.
Here are more reasons why.
The main feature that makes it different is its unique craftsmanship. It features an extended handle that is made from premium quality pear wood, providing full control and maneuverability while brushing your facial hair.
This makes it especially handier if you have a longer beard in comparison with the oval handle of the Seven Potions Beard Brush.
But there's more!
Its bristles are made with 100% first-cut boar hair, so you know for a fact that they are stiff but not irritating. Indeed, the bristles were able to untangle even the most twisted hair, and they are long enough to manage even the thickest beards.
This means they have the perfect length to rich the hair from top to bottom, spreading the natural oil or any other beard products evenly.
If you are looking for a brush better suitable for shorter beards, then consider the next one on our list: Austin & Tyler Beard Brush. It is made with horsehair making it gentler when contacting the skin.
Lastly, it's backed by a lifetime guarantee. To put it another way, if you're not happy with it at any point in the future, ZilberHaar will refund your money in full. This means that ZilberHaar is very comfortable with the quality of their products, so you know you are getting something of high quality.
The good
Extended handle provides ease of use and better handling

Easily removes tangles

Bristles don't fall off after use
The bad
Not very effective on shorter beards
Bottom Line
This is one of the best beard brushes for long thicker beards. Simple as that!
What stands out about this beard brush
100% horsehair bristles
Very compact
Affordable price
The best beard brush for
Shorter beards, or people who have a very sensitive skin type
Overview
Austin & Tyler Beard Brush holds a unique place on our list as it is a beard brush that is made with 100% horsehair. As said previously, horsehair provides a gentler brushing feeling, making it the perfect option for shorter beards and sensitive skins.
While being incredibly soft, this beard brush manages to reduce beardruff and dead skin cells. It also distributes beard oil very effectively.
The handle is made out of wood and is well made. However, as it is very compact in size, people with big hands might find it difficult to hold. Nevertheless, its size is perfect if you are traveling a lot or need a small alternative while you are gone.
If you have a longer or coarse beard, you might find this brush a bit ineffective. This is because horsehair is not stiff enough and thus, can't provide any effective detangling or styling. Any of the other beard brushes on our list will work better than this one for this purpose.
Also, if you use it on thicker beards regularly, its bristles might start falling off – as the bristles are not stiff enough for the job. So bear that in mind.
If you have a short to medium beard but you prefer a beard brush that has an extended handle for easier use, then Kent BRD2 Boar Bristle Beard Brush for Men is a great option. It is, however, made of 100% boar bristles, so if you have very sensitive skin, it might not be for you.
The good
Soft and gentle bristles, reduce chances of irritating the skin

Great price

Great for traveling

Removes beardruff and dead skin cells effectively
The bad
Not ideal for thicker, bigger beards

Bristles start falling off after some amount of use

Not suitable for you if you have big hands
Bottom Line
This is a very soft, compact brush that isn't for everyone. But if you have a short beard or you are short on budget, then you should consider it a try.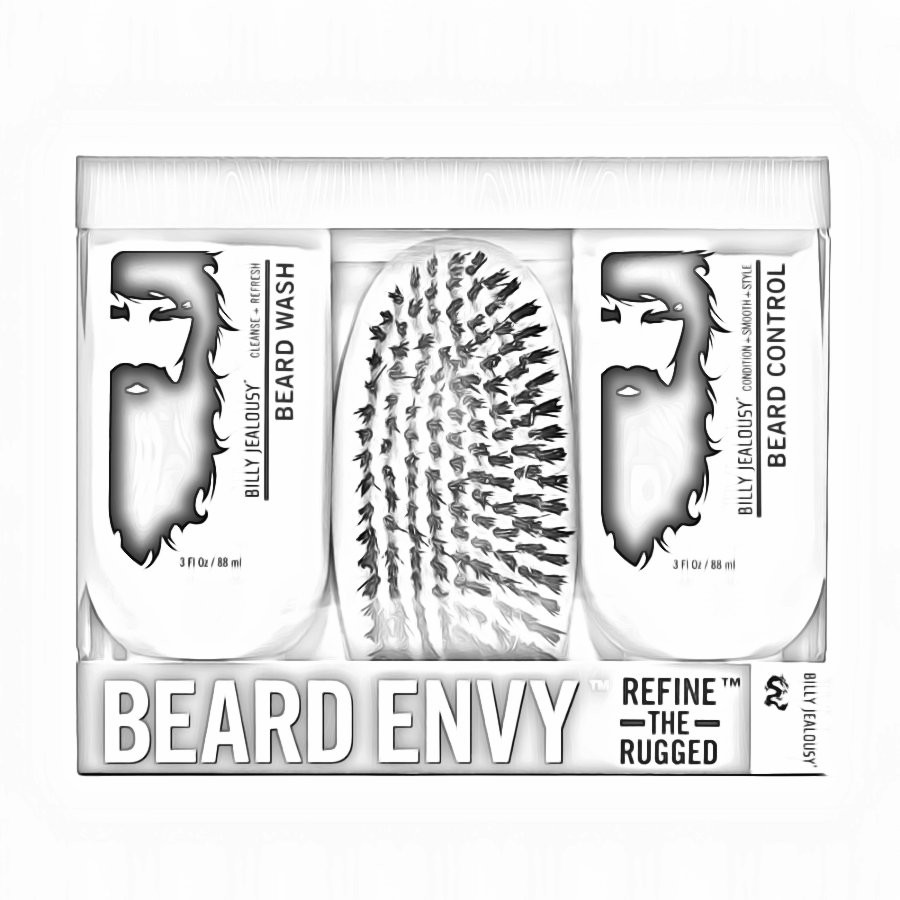 What stands out about this beard brush
All in one kit
Synthetic bristles
Comes with a beard wash and conditioning lotion
The best beard brush for
Beginners who are looking for a beard brush kit that includes all the necessary products to take care of their beard
Overview
The Billy Jealousy Beard Envy Kit is a three-piece all-in-one kit that includes a beard wash, a conditioning treatment, as well as a beard brush.
Before discussing the beard brush, let's quickly discuss the beard wash and the conditioner included in the kit.
The main ingredients of the beard wash are aloe vera and green tea, and for the conditioner are aloe vera, witch hazel, jojoba, and glycerin.
Aloe vera is the holy grail of ingredients when it comes to skincare and hair care. Why?
It hydrates and nourishes the skin, and beard, reducing the amount of beardruff. It also stimulates the hair follicles, promoting hair growth over time.
Green tea cleanses the skin and beard due to its anti-inflammatory and antiseptic properties while also strengthening facial hair.
Witch hazel and jojoba reduce the effects of acne breakouts that might occur underneath the beard, due to their ability to balance excess oil on the face.
Glycerin hydrates and softens the beard while increasing the skin's elasticity.
Overall, this is a great combination of ingredients that provide all-around protection, not only for the beard but also for your skin. What else could you ask for!
Now, let's discuss the beard brush.
It features an oval handle -similar to Seven Potions Beard Brush – made from wood. It is pretty easy to hold in hand and looks well crafted.
The bristles are made from a blend of synthetic nylon and boar hair. Using the brush you will definitely notice that it is made for thicker beards as the bristles are extra stiff – firmer than 100% boar bristles.
If you have a short to medium beard, I suggest avoiding this brush as it can be a bit irritating due to the stiffness of its synthetic bristles.
It will, however, let you tame the beast by getting rid of tangles, dead skin cells, and beardruff.
Overall, the brush is decent but not as effective as other brushes on our list.
The good
Comes with a beard wash and a beard moisturizer

Great value for the money

Very stiff bristles make them suitable for a thicker beard
The bad
Scent of the lotions is not that great

Slightly irritating bristles. 100% boar bristles are more effective in any way.
Bottom Line
The Beard Envy Kit from Billy Jealousy is an all-in-one solution for growing the kind of beard that makes other guys jealous.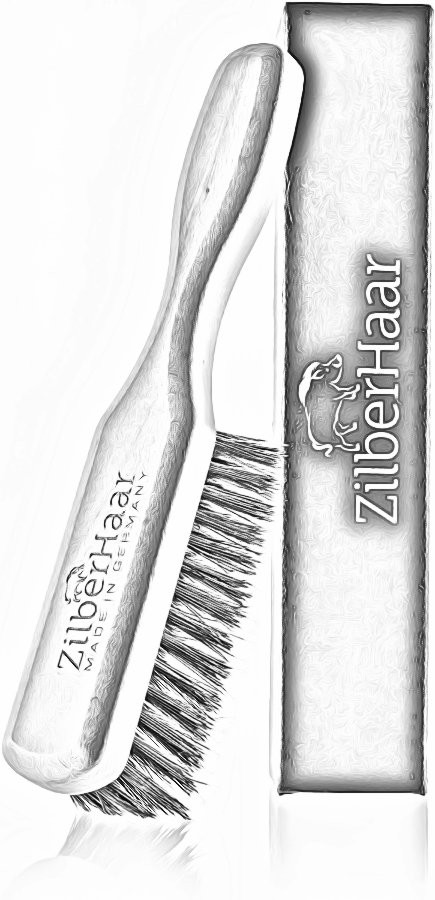 What stands out about this beard brush
Vegan bristles made from Agave Lechugilla fiber
Extended handle for easy use
Stiff bristles
The best beard brush for
People who value cruelty-free and vegan products
Overview
Previously, we have examined ZilberHaar Pure Boar Bristles Beard Brush. This brush is also crafted from ZilberHaar, provides the same benefits, but it has one main difference:
It is cruelty-free and vegan-friendly!
The bristles are made with Agave Lechugilla fiber which is a firm cactus plant fiber and a better alternative to synthetic nylon. What makes this material unique?
It is a fact that it can hold and release water in a considerably higher amount than nylon. This has, as a result, a better distribution of oil.
As for the main body and handle, it is made from premium quality walnut wood. It feels luxurious to hold in hand, and it looks really high quality.
It looks so great that it is perfect to give it as a gift, as well.
Using the brush you will definitely appreciate the extended handle as it makes brushing your beard considerably easier. Especially if you have a longer one.
What we noticed, however, is that the bristles were a little stiffer than its boar equivalent. Nevertheless, we didn't find them as irritating as, for example, Billy Jealousy's Brush when using it on shorter hair.
Overall, this is another great beard brush from ZilberHaar that will definitely not disappoint our vegan fans.
The good
Suitable for all beard types – especially long ones

Detangles and spreads the oil evenly

Premium craftsmanship

Vegan bristles
The bad
Slightly sharper than its boar counterpart
Bottom Line
This is a great alternative to ZilberHaar Boar Beard Brush and is great at both, detangling and styling your beard.
What stands out about this beard brush
Premium craftsmanship
White boar bristles
Features logo designed by Andre Visage
The best beard brush for
People who are looking for the best Kent beard brush for short beard or mustache
Overview
Kent is a well-established brand when it comes to premium beard care products. Their Kent BRD2 Boar Bristle Beard Brush is one of the most premium brushes on the market and not without a reason.
It features an extended pistol-like handle, which not only does it make it easier when brushing but also is thicker for more control. It is made from high-quality wood and features a designed logo from the well-known artist Andre Visage. If you appreciate art, then you will surely love the look of this brush.
It comes with 100% white boar bristles, which are specially cut to make it easier to spread the natural oil, style, and control. On one side, the bristles are shorter and stiffer in order to offer more styling and control, and on the other side, they are longer and softer to reach the deepest hair easier.
This is, however, not a beard brush for thick beards. The way its bristles are cut makes them a bit inconvenient to use on thicker beards. It is, however, very effective on mustaches and short to medium-sized beards.
If you are looking for a beard brush that is suitable for thicker longer beards, consider ZilberHaar Pure Boar Bristles Beard Brush. The bristles have a better angle placement and are also longer in size, making it a better option.
The good
Stiff white boar bristles

Spreads oil evenly and detangles hair successfully

Great for both mustache and beard

Pistol handle makes it easier to use
The bad
Expensive and not for everyone's budget

Not suitable for thicker beards
Bottom Line
This is a great premium beard brush for mustache styling and shorter beards.
How we chose the best beard brushes
It was impossible to test all the beard brushes available on the market. So, we included ones we have tried before and ones that have good reviews and value.
We tried to provide one for each need, for example:
the best beard brush for vegans,
the best mustache brush,
the best beard brush for thick beards, etc.
Of course, because of the number of beard brushes available out there, there might be other options that outperform the ones we have included here. If you think that's the case, don't hesitate to leave a comment so we can check them out ourselves.
What are the benefits of using a beard brush?
If you are still reading this article and you are still unsure what are the benefits of using a beard brush, don't worry. In this section, we will explain thoroughly those benefits and relieve you from wondering if it is a good investment for your facial hair or not.
Let's dive right into it.
1. It helps you style your beard
I mean, this is a no-brainer. Brushing your beard detangles tangled hair, and makes it flatter and straighter. This means it is easier to style and control.
2. It exfoliates the skin and removes beardruff
The skin underneath your beard is closely related to the health of your beard. Due to the density of the bristles and solid stiffness, beard brushing helps reduce dead skin cells and dirt, i.e. food that has accumulated beneath your mane.
Additionally, it helps to remove beardruff giving the beard a much healthier appearance. You will be surprised how many men need to wipe off their clothes because of this condition.
3. Trains the beard to grow in the correct direction
Beards are well known to grow all over the place, making them difficult to keep in place and control. Using a beard brush often trains your mustache and beard to grow in the correct way and in the direction they are supposed to grow.
You will find yourself spending less time to style them in the correct direction: downwards.
4. Distributes oil and other beard products evenly
A beard brush will aid your skin's natural sebaceous oils, as well as any beard oil, balm, wax, etc. you apply, coat each hair follicle evenly. A brush distributes oils evenly throughout your beard, repairing dry, scratchy beards. In the end, a beard brush is an excellent conditioning tool.
5. Reduces hair breakages and split ends
Brushing your beard regularly reduces the chances of breaking out or developing split ends. This is mainly because it distributes the sebum evenly – from the hair follicles to the tips -, and it detangles the hair.
The sebum acts as an additional layer of protection, and the untangled, flat hair makes it less likely to pull or tug. This also prevents hair loss.
6. Promotes hair growth
Brushes help to reduce hair loss while also promoting hair growth. That's because the bristles of a hair brush softly massage the skin, having as a result, boosting the blood flow to the hair follicles.
How to use your beard brush like a pro in 6 simple, illustrated steps
Here's something to keep in mind right away:
You need to use your beard brush every day to get all of its benefits.
It's fine to apply it just once a day, but being consistent can help keep your beard appearing well-kept.
Now, let's dive in into our guide:
1. Brush your beard ideally during the morning
The first step involves timing.
We want our beard to look the best throughout the day, so it is only logical that the best time to brush it is during your daily morning routine.
Additionally, we all know the feeling from the dreaded bed beard after we wake up. Using a beard brush detangles the beard and makes it straight and flat and thus, better looking.
2. Ideally, brush after beard applying shampoo and beard oil
After washing the beard, the beard and skin are very clean. This is the time where they are most absorbent. Wait for the beard to dry, and apply your beard moisturizer or oil. After applying, brushing your beard will spread the oil evenly on the hair and skin while also removing any leftover dirt, dust, or flakes that were left behind after the shampoo.
It will also straighten it out, removing any twists or knots that might occur while applying the above products.
3. Start brushing your beard with the grain
You can start by brushing your beard with the grain (i.e., going in the same direction as the growth of your hair). This will help reduce knots and keep your beard shiny and healthy-looking.
Start brushing from the tips of your beard and slowly work your way higher towards your face. Always, brush with the grain to avoid knots and tangles.
4. Work your way gently through any knots and tangles
Don't let your beard turn into a tangled mess. A beard brush is an affordable, easy way to keep your facial hair groomed and neat. It's important to use the right products on your beard if you want it to look its best.
Remember to try and spot any knots or tangles that might have skipped throughout the process. Don't push excessively on the skin as you might irritate it if the bristles are very stiff.
There may be some minor discomfort, but brushing your beard is typically soothing and relaxing. Enjoy the ride.
5. Make sure your beard is dry before you start to brush
Always make sure that your beard is dry before you start to brush—wet hair is more likely to pull out, which means your beard won't look as good when you're done.
Brushing it while it's still wet can cause you to lose hair that you've so magnificently grown.
6. Clean your beard brush weekly
Make it a habit to clean your beard brush once a week. This is to avoid making your beard dirtier rather than cleaning it.
Beard brush vs beard comb
A lot of people are confused about the differences between when to use a beard brush and when to use a beard comb.
Let's take a look.
When is it time to use a beard brush?
A beard brush is great for conditioning your beard, as it is exceptional in distributing the natural oils of your skin and other beard products evenly. It is also great in removing dirt, or any leftovers of said products (or food) keeping it clean.
It is great when you want to exfoliate the skin underneath your beard. It removes dead skin cells keeping the pores unclogged and your skin healthy.
It is great to make your beard look fuller and thicker. The brush's bristles lift your hair away from your skin. A comb, on the other hand, has the tendency to pull your hair down.
Finally, many beardsmen would advise you to use a brush during the early phases of beard growth. A brush has an advantage over a comb in that it is more effective in training your beard hairs to grow in the desired direction. It's thought that training your beard at the start, rather than after it's fully grown, is easier. A comb gives you a wonderful style, but styling your beard is a lot easier when it's already pointing in the appropriate direction.
A beard brush works better if you prefer to groom it dry rather than wet. Brushing on wet hair can cause breakage and damage to the hair follicles.
When is it time to use a beard comb?
A beard comb might be a better choice if you have at least a three to four months old beard and you would like to style it. Combs are generally a better option for longer beards as they are easier to control. That is not to say that beard brushes can't get the job done.
They are a better choice if you have a longer and thicker beard and you want to detangle it. This is because combs have wider teeth that are rounded at the end, making it easier and smoother to remove twisted hair and knots.
Combs can be used on wet beards if you prefer to groom right after showering.
Beard combs are more portable and easy to carry around the whole day if you want to regularly keep your beard under control.
Conclusion
And there you have our best beard brush reviews, my friends.
As always, we encourage your input; if you have any comments about the brushes we've listed here, or about any men's grooming topic, we'd love to hear from you.