6 Best Laser Combs & Systems for Hair Growth That Work
This post may contain affiliate links. Learn more.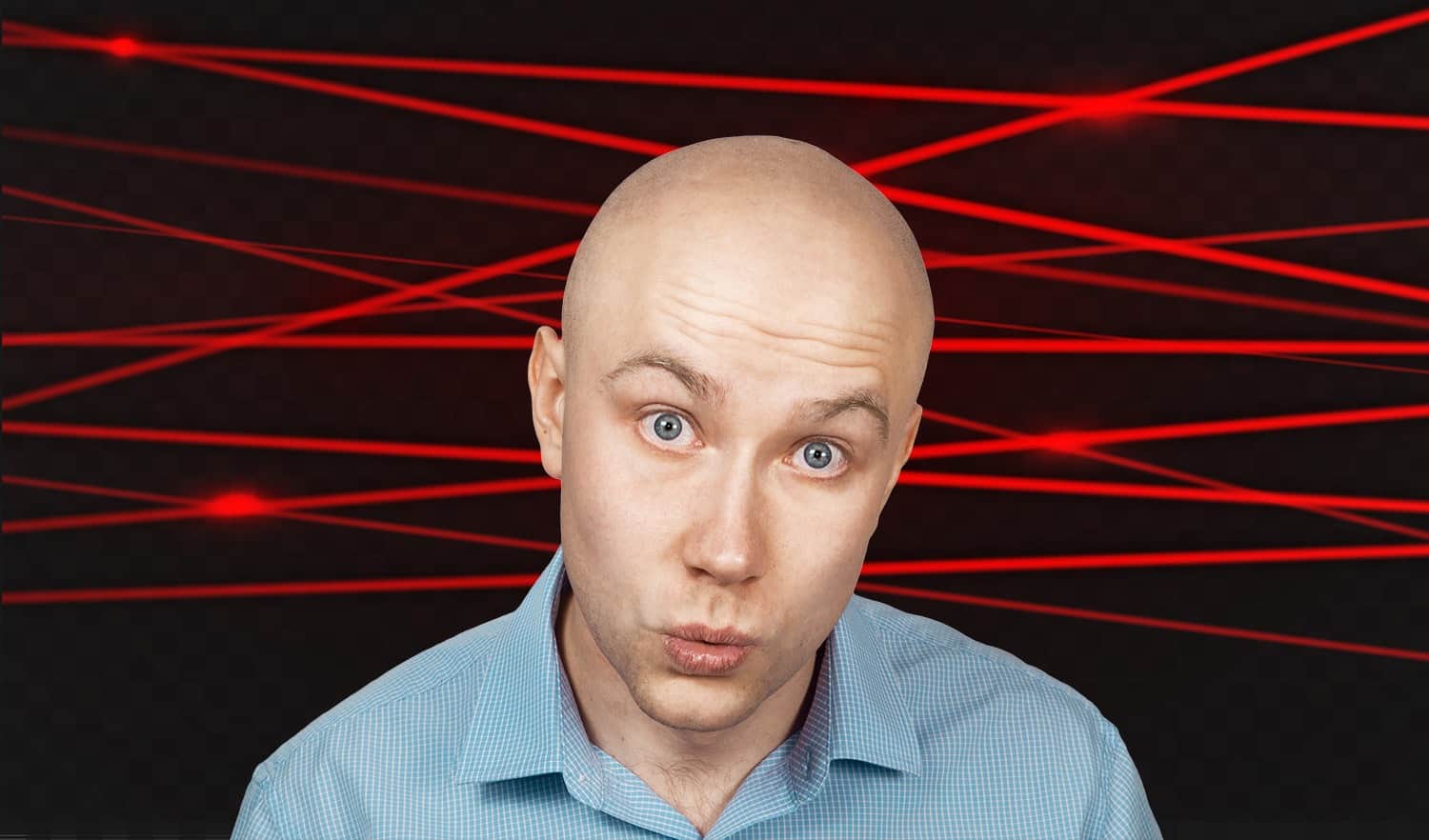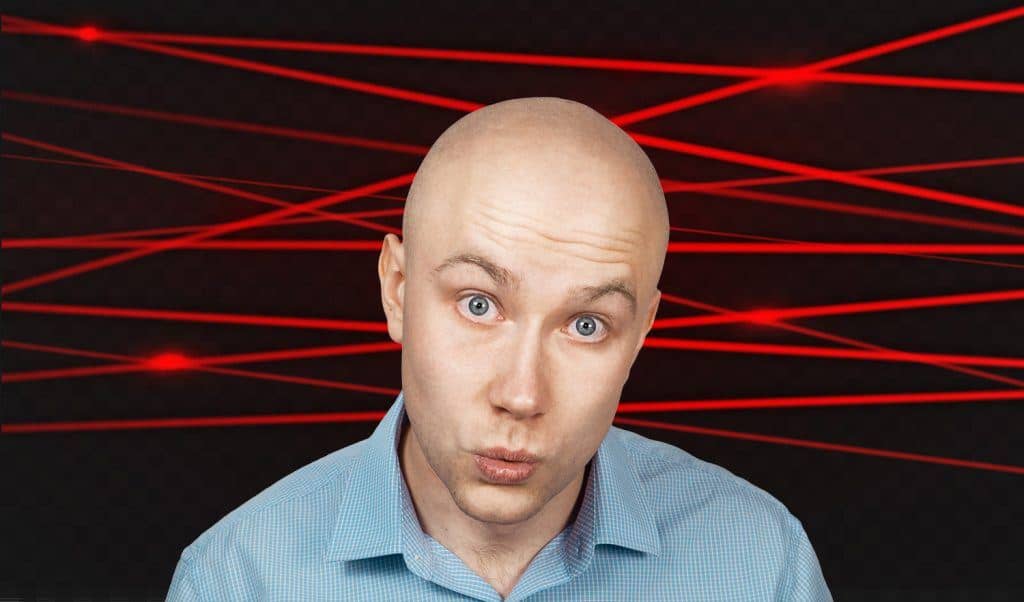 It wouldn't take long to count if you asked for a show of hands for anyone who liked losing their hair and going bald. While there's nothing wrong with being bald – and many men rock the look – most people prefer a nice, thick head of hair.
But there's also not a lot a person can do about hair loss, that is, without doing something. Genetics, a hormone called dihydrotestosterone (DHT), stress, etc., all cause hair to fall out.
Fortunately, there are plenty of solutions, including products such as laser combs and other systems designed to slow hair loss while promoting new growth.
In a hurry? Here are our top picks:
iRestore Laser Hair Growth System
Irestore's Laser Hair Growth System is the very best laser comb system you'll find. It is safe and easy to use, offering real comfort and convenience.
Hairmax Ultima 9 Classic LaserComp Hair Growth Device
Hairmax's Ultima 9 Classic LaserComp Hair Growth Device is portable and lightweight. It is very easy and quick to use, too.
Quick summary
<!—INSERT CODE BELOW—>

Our #1 Choice

Irestore Laser Hair Growth System

Safe and easy to use

Comfortable and convenient

FDA approved for safety

Check on Amazon

Hairmax Ultima 9 Classic LaserComp Hair Growth Device

Portable and lightweight

Doesn't take a lot of time to use

Patented design

Check on Amazon

Hairguard Growband

No side effects

Comfortable fit on the head

Increases blood flow to the scalp

Check Best Price

Theradome LH80 Pro Hair Growth Helmet

Can fit any size head

Consists of 80 laser diodes for a thorough treatment

Reaches all areas, no follicle is missed

Check on Amazon

Aphrona Laser Hair Growth Helmet

Simple to use

Looks like a normal hat

FDA approved

Check on Amazon

Hairguard Growcomb

No side effects

Features different power settings

Doesn't require a lot of time to use

Check Best Price
Before you buy: 6 Things to consider when purchasing a laser comb or system
If you're looking for hair growth products, you've probably already done your fair share of research. You may have even seen a dermatologist. And while there are many products on the market promising to help with hair loss and thinning hair, you may be considering a laser comb or system to stimulate your follicles and promote healthy hair growth.
Before you take the plunge – and dip into your wallet or pocketbook – here are some things to keep in mind before you buy a laser comb or system:
1. Is it a helmet or a comb?
The type of device you choose comes down to laser combs and laser helmets (or caps). Combs are less expensive, but require manual use. Helmets fit on your head before they're switched on to begin the treatment. But, yes, they are more expensive.
That said, you must decide between the convenience of use (helmets) vs. a price that best fits your budget. Also, a typical laser comb session doesn't take as long as a session under a helmet, although not in every case.
2. Your hair loss
What is the severity of your hair loss? If you have bald spots that are smooth and shiny – which means there aren't any dormant hair follicles in those areas – then low-level light therapy isn't for you. LLLT cannot reverse balding.
Severity of Hair Loss
Mild: Thinning hair is spread evenly throughout the scalp.
Moderate: Thinning hair is noticeable, but a definite pattern may not be apparent.
Severe: The top of the head is balding, and there may be only a wreath of hair around the sides and back.
3. Most LLLT devices are FDA cleared
We'll mention "FDA-cleared" often in this post. It means that the FDA gives its clearance for safety, but not approval for proven results. Minoxidil and Propecia are the only two FDA-approved hair loss treatments.
4. Most have minimal side effects
Another good reason for giving low-level laser treatments a try is that they're very safe – hence the FDA "clearance" for many of them. Users report very few laser comb side effects, if any, and most are very minor, such as an itchy scalp or mild irritation.
Despite some claims, LLLT therapy does not burn your scalp. Besides, many LLLT devices come with automatic shut-offs when your session has finished.
5. Some still aren't convinced that they work
Legitimate low-level light therapy devices shouldn't be confused with sham products or, for that matter, expensive toys. There are studies to back them up and many users report positive results after using them for the suggested amount of time.
Some still aren't convinced that Laser Combs & Systems for Hair Growth work, but there is plenty of evidence to support their claims. A study done in 2011 by The International Society of Hair Restoration Surgery concluded that low level laser therapy (LLLT) actually regrows hair on balding scalps.
That said, however, not all doctors are convinced that LLLT devices grow hair. But most feel that they provide at least a mild benefit. And we'll get into clinical studies later in the post.
6. Price
LLLT combs and helmets aren't cheap. As mentioned, combs cost less than helmets and caps but still make for a decent-sized investment.
But if your current method of preventing hair loss and promoting hair growth isn't working, LLLT devices may be worth the time, and money.
The good news is the combs and helmets represent, for the most part, a one-time investment. Pills, shampoos and other hair-loss programs eventually run out and you'll need to purchase more, while LLLT devices are (hopefully) built to last.
OK, let's move on to our laser comb reviews.
The 6 best laser combs & systems for hair growth
Best features
Backed by clinical studies
Can use it in conjunction with other hair loss solutions
Safe to use every other day
The best laser comb/hair system for:
Anyone seeking a proven, helmet laser growth treatment
Overview
The iRestore system consists of a plastic helmet – with lasers and lights enclosed inside – that gives you a look of a stormtrooper, or as if you have a uniquely-designed bicycle helmet. It's not just for looks, however.
iRestore has what we think is the best laser for hair growth today. They're so confident that you'll grow hair and stop it from thinning that they provide a full-money back guarantee if you don't see results within six months of purchasing it.
That's pretty strong stuff for technology that some still think of as something of a sham.
To their credit, the folks at iRestore have clinical studies to back up their claims that users may see increased hair growth by over 40 percent.
Their system also has FDA "clearance," which means it's approved for safe use, which is good to know when you place something filled with lasers on your head for 20 to 30 minutes at a time.
How does it work? Here's a closer look:
The iRestore Laser Hair Growth System uses 51 medical-grade laser and LEDs to radiate light energy that's absorbed by hair follicles. In turn, it enhances the cell metabolism rate while reactivating follicles that stimulate hair growth.
While iRestore is effective on its own, you can also use it in conjunction with other hair-loss solutions such as Minoxidil, hair-growth shampoos, and supplements. Some physicians recommend using multiple products but, again, iRestore works all on its own.
iRestore is safe and drug-free with no known side effects.
The iRestore dome (i.e., helmet) consists of lightweight white plastic with a built-in headband that keeps the helmet in place during therapy sessions. Soft cushions inside the helmet help it to fit comfortably on your head.
You operate the device with a handheld controller that starts and stops the sessions, and which includes a small, backlit display with a timer. The LEDs automatically turn off after 25 minutes, although the controller emits a beep as a reminder.
You power the unit with an AC adapter that plugs into an electrical outlet (you don't have to worry about constantly re-charging batteries).
The iRestore Laser Hair Growth System is safe enough to use every other day. Again, each treatment session last 25 minutes and the device automatically shuts off when it's finished.
A few safety tips before you use the iRestore system, or any helmet-like hair growth device, for that matter. For one, never stare directly into the laser light, because doing so can damage your eyes.
Also, make sure that your hair is dry before use, and keep the device away from water and wet areas.
Finally, keep it out of reach of pets and children.
iRestore is suitable for men and women who experience hair loss and thinning hair. Most users experience positive results within two to six months. And here's a video if you'd like to learn more.
Type: Helmet
Pros
Comfortable and convenient

Easy to use

Safe
Cons
Results may not come quickly
Bottom Line
iRestore has proven results to back up the effectiveness of its product and the FDA approves it for safety.
It's the go-to choice for many people looking for solutions to hair loss besides shampoos, topical solutions, and pills.
Best features
FDA cleared
Patented design
HairMax is a trusted brand name
The best laser comb/hair system for:
Anyone who doesn't want to spend a lot of time on treatments
Overview
HairMax is an important name in the laser hair growth world and has been since 2000. They're a trusted company in the business, and products like their Ultima 9 Classic LaserComb are FDA-cleared and clinically-proven to deliver positive results.
And there's more, because:
The Ultima 9 LaserComb is lightweight, portable, and easy to use. You can use it for travel without having to worry about lugging battery packs around.
It comes with a charging stand, a rechargeable battery, and a power cord.
It doesn't take a lot of time to use. You can use the LaserComb as little as 11 minutes every other day, which is shorter than many other laser comb products.
It combines clinically-proven laser technology with an iconic, patented design that features hair-parting teeth that maximize coverage.
The laser light is directed to hair follicles to reverse hair thinning while stimulating regrowth.
Another plus is that the HairMax LaserComb comes with a 2-year laser device warranty.
Type: Laser Comb
Pros
It features a lightweight design that's easy to use and portable.

You only need to use it three times a week for it to be effective.

It parts the hair to create a pathway for laser light to reach the scalp.
Bottom Line
HairMax's patented LaserComb system has delivered excellent results for many years. You'll experience dense, fuller, healthier hair in less time than it takes with many other products.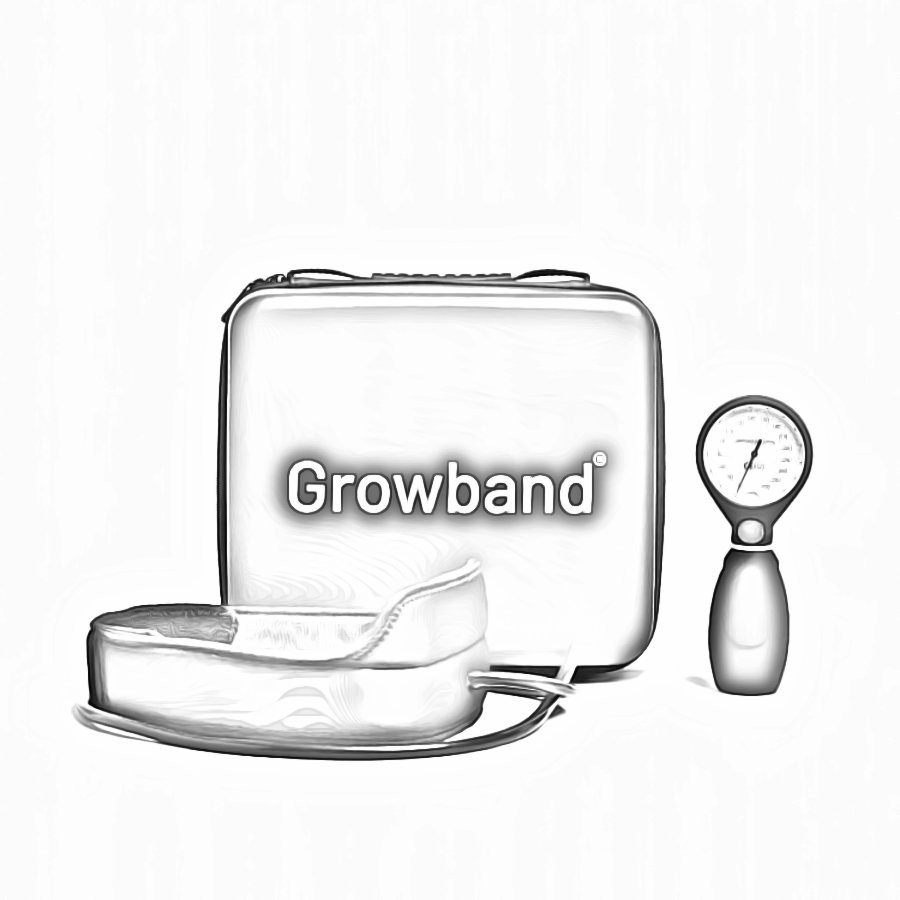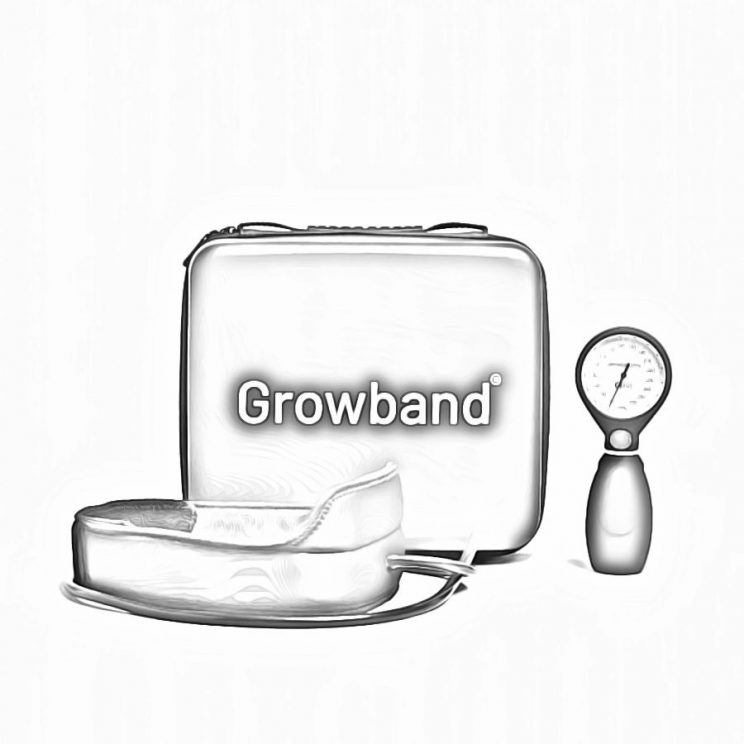 Best features
Increases blood flow to the scalp
Reduces scalp calcification
No side effects
The best laser comb/hair system for:
Anyone looking for an alternative to helmets and laser combs
Overview
Hairguard's Growband is an interesting device, to say the least. After all, it features a band that you inflate, which lifts upward to release the tension on the scalp. It also helps to move blood around the scalp and toward the hair follicles.
The latter is important because sufficient blood flow is essential for helping hair follicles to thrive.
If you have thin or receding hair, one of the causes is a lack of blood flow. And reducing scalp tension allows blood to flow more freely while sending essential nutrients to starving hair follicles.
It also helps to reduce calcification on the scalp; calcification greatly reduces the scalp's ability to grow healthy hair. Moreover, it reduces fibrosis, which inhibits the scalp's ability to grow thick hair.
So, to say the Growband covers all bases is an understatement, and many product testers – utilized by Hairguard – demonstrated visual hair growth within four months of using it. Plus, you only need to use it 10-15 minutes a day.
As mentioned, the Growband features a band (an inner tube, really) that you inflate manually with a hand-held pump. The band rests comfortably on your head and includes soft cushioning and neck support.
There's also a strap you can use to adjust to fit your head size.
It helps treat hair loss at the root cause and doesn't cause side effects that you may experience with minoxidil and finasteride; although, admittedly, the percentage of men who experience side effects with those products is low.
Type: Inflatable headband
Pros
You can experience results from only using it 10 to 15 minutes a day.

It comes with a 365-day risk-free guarantee.

It has no known side effects and doesn't harm your hormonal system.
Cons
Some users don't like that you have to do manual pumping.
Bottom line
The Growband is an effective alternative to other types of laser systems, and you can experience noticeable results by using it only a few minutes a day.
Best features
Helps decrease hair shedding
Only need to use it a couple of times a week
It covers a wide area of the head
The best laser comb/hair system for:
Anyone who wants a powerful, cordless laser solution
Overview
Theradome and technology tend to go hand-in-hand, and the company claims that its Theradome Hair Growth Helmet has the best technology of all other hair growth systems.
With 80 lasers ensconced within it helmet's confines, it certainly has the "power" other systems don't.
Our main concern, however, is if it works.
From what many users and reviewers say, it is effective in treating loss while promoting hair growth – meaning it's worth a deeper look. And it has the backing of hair rejuvenation experts such as Bosley, Hair Club, and other legitimate medical clinics.
One of the things we like about the Theradome LH80 PRO is that you only need to use it a couple of times a week (at only 20 minutes per session).
That's not a significant amount of time when you think about it, and which one of us truly can't spare 20 minutes on two separate days. You'll likely be able to fit it into your schedule somewhere.
Many users not only experience some hair growth from the Theradome LH80 PRO, but also notice less shedding. Furthermore, many of them experience an increase in individual hair diameter, which produces a thicker, more vibrant head of hair.
The Theradome LH80 device is cordless (rechargeable batteries are included) to provide greater convenience during use, and comes with a simple power switch that turns it on.
The lightweight plastic helmet comes with foam pads that allow it to fit heads of different sizes. There's also a sensor that detects whether you've positioned the helmet on your head properly.
It even comes with an automated treatment counter that keeps track of your total number of treatments, as well as with an automatic shut-off that engages after 20 minutes.
Like other low-level laser treatment devices, the Theradome LH80 works well in conjunction with products such as Minoxidil, although that's not a requirement.
You should wash and dry your hair before use, however. Never use it – or other laser treatment helmets – with a wet head.
Theradome recommends using it as directed for 18 to 26 weeks, when you'll start to notice a decline in hair loss. They also claim that you'll experience hair growth at 28-52 weeks.
In any case, the Theradome LH80 comes with a 1-year manufacturer's warranty and 120-day money back guarantee.
Type: Helmet
Pros
80 laser diodes provide expanded treatment.

Reaches all areas of the head.

Fits all head sizes.
Cons
More expensive than many other helmets and hair treatment devices.
Bottom Line
There's a lot to like about the Theradome LH80 pro, including that it's convenient and easy to use. And if you're looking for something you don't have to use every day – or even several times a week – this is a device worthy of your attention.
Best features
FDA approved
Rechargeable
1-year warranty
The best laser comb/hair system for:
Men who are looking to continue their hair loss treatment outdoors.
Overview
If you suffer from hair loss, there is a lot to love about Aphrona Laser Hair Growth Helmet. It is very convenient and easy to use.
What makes this product different than other hair treating laser products on our list?
The fact that it looks like a normal hat.
That's right! It can be used even when outside your house doing other activities such as shopping, driving, walking, etc.
It features 81 lasers that are FDA-approved and clinically tested. According to a study, over 95% of participants saw some kind of hair growth within the first 17 weeks of using it.
The laser light promotes blood flow in epidemic stem cells, which are responsible for regeneration and reawakening weaker or dormant hair follicles. It also reverses the thinning process and restores the natural growth cycle, resulting in fuller, healthier hair.
Just three to four times per week (every other day) for just thirty minutes will do the trick.
As we said, the cool thing about Aphrona Laser Hair Growth is that it is very easy to use. It automatically turns on when you wear it and automatically turns itself off after thirty minutes of use.
How cool is that?
Overall, this is a great laser hair growth treatment that is pain-free and with no known side effects.
Type: Laser helmet/hat
Pros
Very easy to use. Automatically turns on and off

Stylish design makes it suitable for use outside the house

Lightweight to the head

Covers all areas of the scalp
Bottom Line
Aphrona Laser Hair Growth Helmet is a great convenient alternative to other laser treatments. Very easy to use and functional.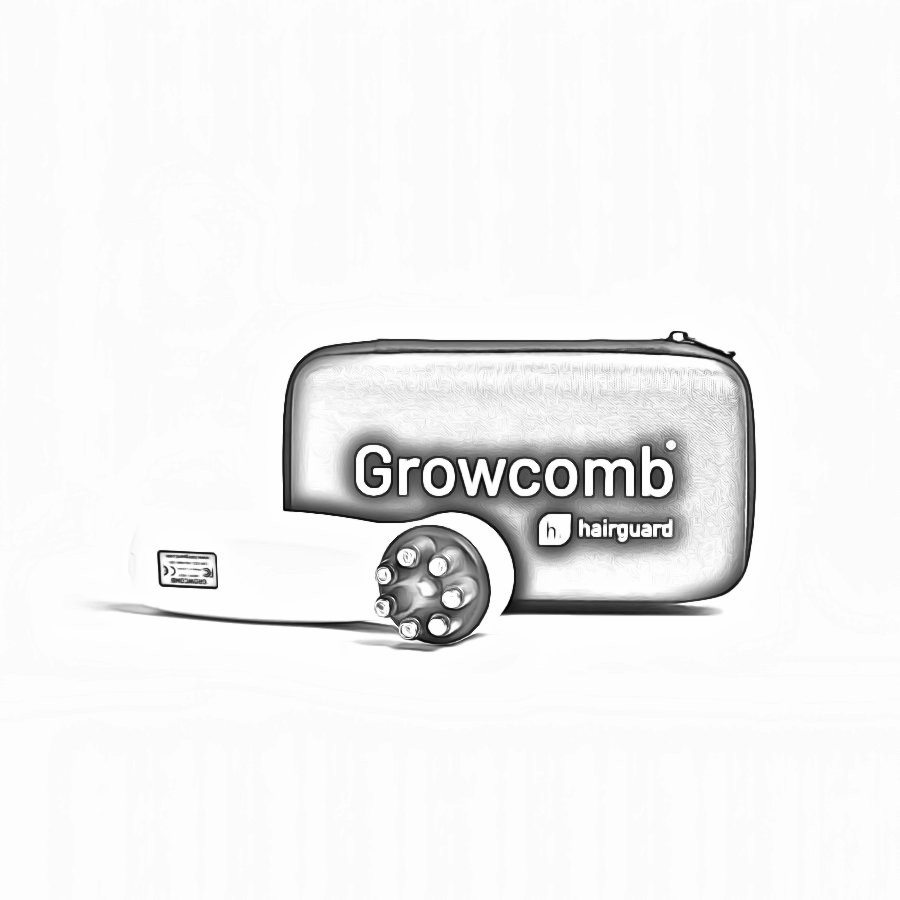 Best features
Different power settings
Doesn't take much time
Easy to use
The best laser comb/hair system for:
Anyone who wants a convenient system that doesn't take much time
Overview
Hairguard has another excellent product to offer anyone experiencing hair loss with its Growcomb. Like its Growband above, the Growcomb doesn't require a lot of time to use, doesn't cause side effects and uses new patented technology.
The Growcomb's key feature is ETG technology, a.k.a., electrotrichogenesis. It works by emitting a pulsing electrostatic field through glass diodes that come into contact with the root of hair follicles.
The electrostatic field helps kickstart dormant hair follicles into the anagen, or growth, stage of hair growth.
The Growcomb comes with four power settings. The folks at Hairguard recommend that you use the first two settings until you get used to the sensation of the electrostatic field. It's a tickly sensation, but pleasant, especially as you become accustomed to it.
Once you have your preferred setting, you comb the areas of your hair that are thinning and which you would like to grow thicker. Lightly brush the scalp in circular motions while allowing the ETG technology to work.
The Growcomb shuts off automatically after 10 minutes of use – just make sure you've covered the intended areas of the head during that time. It comes with a battery that you'll need to charge once a week if that.
Type: Electrostatic comb
Pros
The electrostatic field kickstarts hair follicles so that they enter the growth phase.

All you need to do is to comb the areas of thinning hair.

Doesn't take a lot of time to use, and it comes with a rechargeable battery and cable.
Cons
Like other hair growth products, it may take some time to see results.
Bottom line
Hairguard's Growcomb is fast, effective, and easy to use. You'll experience good results with daily use without worrying about side effects.
Do laser combs and systems really work?
So, what's the story? You've just spent – or are thinking of spending – a decent chunk of money on a laser comb or other type of laser therapy system. You've read reviews, you've done some research, perhaps you've even talked to others.
But a pressing question remains – do they work?
The answer is (drum roll) yes, although skeptics remain. It's worth exploring a bit deeper, for sure.
There are many studies and pages of research claiming that laser hair growth technology does, indeed, help you fight the battle against baldness.
In one trial, conducted by the American Journal of Clinical Dermatology, over 100 hundred men and women were given laser combs which they used for 26 weeks.
In most cases, those using the laser comb – and not a placebo as was given to other patients – had a noticeable improvement in the thickness and fullness of their hair. Moreover, the improvements weren't dependent on gender or age.
Meanwhile, two other studies published by the National Center for Biotechnology Information strongly suggest the low-level laser treatment devices work.
In one of the studies, 146 men and 188 women received a laser comb (one of three models) or a sham device.
Participants received treatment three times a week for 26 weeks with a large percentage of those subjects showing less hair loss and thicker, fuller hair. None of the participants reported adverse effects.
In another study, also published by the NCBI, 110 patients completed a study which involved the HairMax LaserComb and a sham device. Participants who used the laser comb reported an increase in hair density as well as overall hair regrowth.
A word of caution, however: laser hair growth technology cannot reverse baldness, which marches on whether we want it to or not. But if your hair is thinner than you'd like, you can give it a boost with a laser comb or other device.
While studies and research are promising, not everyone in medical fields is convinced that laser combs and systems are effective for treating thinning hair. And even publishers of studies such as the NCBI suggest that more research is needed.
Some doctors go so far as to say they don't work at all, while others say they provide a mild benefit. While they're hardly endorsements that fill the buying public with confidence, living, breathing humans have testified that the devices work.
One of the advantages of laser therapy is that it has few side effects and almost every study comes to that conclusion. There isn't a lot of information regarding the long-term effects of using laser treatments, mainly because it's a relatively new type of therapy.
Temporary shedding or hair loss is one possible side effect. Yes, that seems like something of a shocker considering that hair growth – not loss – is the goal, but it only occurs in the first few months of treatment (if at all) and new growth will follow.
Something else to consider
While laser therapy isn't FDA-approved, it does have FDA "clearance" for safety. The only FDA-approved hair loss treatments are finasteride (Propecia) and minoxidil (Rogaine).
Using it requires discipline
The discipline needed to stick with a laser treatment program may scare some folks away from trying it. A laser comb, cap, or helmet typically requires using it for one hour or more per week on an indefinite basis.
Where Did The Technology Come From?
During the middle of the twentieth century, Hungarian scientist Endre Mester, who was a pioneer in laser medicine, figured out that lasers can affect hair growth!
After the invention of the first laser, he started using lasers for different therapies, including skin cancer. As he was conducting an experiment of testing low-power lasers on mice, Mester noticed some hair growth on the shaved spots.
A few years after that, numerous companies incorporated lasers as a way to treat diseases. Soon after, Canadians came up with low laser treatments to help prevent hair loss.
What you need to do when using laser combs & systems (A simple, illustrated guide)
Devices such as laser combs and helmets often look a bit intimidating. All that technology wrapped up in a single product – which usually looks space-age enough to belong in a Star Wars movie.
No need to fret, however, because they're relatively easy to use. Let's look at laser combs and helmets and how to use them:
How to use laser combs
STEP 1: Laser combs represent the manual approach of low-level laser treatment options. Unlike a helmet, which you simply place on your head before flipping on the power source, laser combs need a bit of old-fashioned elbow grease.
STEP 2: While recommended usage amounts vary depending on the laser comb manufacturer, the typical suggested use is three times a week for 10 to 20 minutes per session. It's best not to use it on consecutive days.
STEP 3: Never use a laser comb on hair that has gels, cream, sprays, or other common hair products. But it is OK to use on either wet or dry hair.
STEP 4: While it's helpful that your scalp is clean before using a laser comb, it isn't mandatory.
STEP 5: Place the laser comb flat on your hand after powering it on.
STEP 6: Move the laser comb slowly, not as you would when usually combing or brushing your hair. Leave it in a spot for a few seconds and then slowly move it to another spot.
STEP 7: Start at the front of your hairline and work your way back. Make sure to cover all areas of your head. Once you've reached the bottom of your hair, work your way back to the top of it (remember, you're not trying to style your hair).
You'll finish after you've covered all of your hair twice.
STEP 8: Laser combs have a row of teeth aligned with the laser beams. But their purpose is to part your hair to let the low-level laser light penetrate to the scalp.
STEP 9: If your hair is longer in spots, use your hand or a brush to lift it out of the way of the laser comb.
STEP 10: Perhaps the most important thing to remember when using a laser comb is to move it slowly.
How to use laser helmets
STEP 1: Laser helmets and laser caps are basically the same things with the only difference being that the latter device resides under a baseball cap-type hat. But the how-to of using them follows the same basic principles.
STEP 2: While every helmet differs from manufacturer to manufacturer, all of them are meant to remain on your head for the duration of a session, which is typically 20 to 30 minutes.
Like laser combs, there's no need to use them every day but recommended usage is three times a week (perhaps a bit more, depending on the instructions).
STEP 3: Most helmets are adjustable to fit every head size and create little, if no, discomfort when in use. Some come with a power cord that's plugged into a wall outlet, while others rely on battery power and come with rechargeable batteries.
The nice part of cordless helmets is that you're free to move around while undergoing treatment.
STEP 4: Most helmets also include an incorporated timer that turns the device off automatically, meaning you don't have to watch the clock. Many models come with various settings which correspond to a baldness pattern.
So, laser comb or laser cap – What's the right choice?
Whether you choose a laser comb or a laser cap (or helmet) the basic technology remains the same.
Both rely on Low Laser Light Therapy to stimulate hair follicles and, hopefully, produce new hair growth. And, in both cases, shrinking hair follicles become larger and rejuvenate hair growth cells that have become dormant.
The science behind LLLT therapy is that medical-grade, low-level lasers and red light therapy penetrate the scalp and stimulate hair follicles.
To dig deeper into the science, the photons emitted from the light stimulate follicles on a cellular level which, in turn, increases adenosine triphosphate production.
ATP is the primary carrier of energy in the cells and enhances cell function and replication.
But back to our original question. While laser combs and caps and helmets work from the same scientific foundation, there are differences between them – differences that may influence the results each device provides.
Let's take a look:
Laser combs
Laser combs are handheld devices that usually have 2-8 LEDs or lasers. That's far less than laser caps and helmets, but we'll get to those in a minute.
Rechargeable batteries provide the power source for laser combs which means you have the convenience of cordless operation. You'll get multiple uses from one charge.
Laser combs typically work by parting the hair (as you comb) to enable the laser light to pass through to the scalp. You start at the front of your hairline and comb your way back while waiting the designated amount of time between each pass.
We've already discussed how to use a laser comb, but it's worth mentioning again that laser combing isn't like regular hair combing in that you only need a few passes over your scalp to do the job right.
Instead, you'll need to keep combing with a laser comb for up to 10 minutes, at least three times a week.
Have you ever combed your hair for several minutes? It's not as easy as it sounds, although you may build up your arm muscles in the process.
One advantage to using a laser comb is that it parts the hair when transmitting light. That's very helpful for a person who has long – but thinning – hair because it allows the light to reach the skin.
Another advantage? Laser combs are less expensive than other forms of LLLT.
Finally, laser combs are OK to use in conjunction with other types of hair loss treatments, such as Minoxidil. Many hair loss clinics use the two as a combination treatment that they say creates better results than either might produce on its own.
Laser helmets
Perhaps the most significant difference between laser helmets and laser combs is the amount of light emitted from the device. Helmets use a combination of lasers and red lights that total a minimum of 50 LEDs (all the way up to 200). That's a lot of power.
As the name implies, laser helmets consist of an outer shell (made of lightweight material) that houses the lasers and red lights. A typical laser helmet session lasts for up to 30 minutes, although usually not on a daily basis.
Laser helmets cover a much wider area of your head and scalp than combs – or, at least what a single pass of a comb covers.
Laser helmets are very user-friendly in that you place the device on your head and turn it on.
No comb must pass through your hair for several minutes; instead, your hands are free and you can engage in other activities, such as reading or listening to music, while you're wearing the helmet.
Laser helmets come in a variety of styles and offer different features. They include timers which turn the device off automatically once you've reached the allotted time.
The power source for laser helmets varies from device to device. Some models plug into a standard electrical outlet, while others contain an internal rechargeable battery, allowing you to move about freely during the treatment session.
Laser caps
Laser caps and laser helmets share many similarities. But laser caps take the form of baseball caps, or other types of caps, that you can wear anywhere. Rechargeable batteries provide the power source for laser caps and provide ultimate convenience.
The laser technology of laser caps isn't as powerful as the technology in laser helmets, and the total treatment time needed for laser caps is double that of laser helmets.
Then again, you can wear your laser cap in public, so it's not like you have to put your life on hold while you treat your hair and scalp.
Our verdict? Which method of laser treatment you choose takes a few things into consideration – price, convenience and, of course, effectiveness.
You'll spend more for a laser helmet (or cap) but you get a more powerful treatment. A comb treatment only takes several minutes and many are cordless to provide supreme convenience.
But if more power truly leads to better results – as many experts suggest – then a laser helmet provides a better overall treatment option, if you're willing to spend the money.
How we chose these fine products
It's not that there aren't many low-level laser treatment options available, but the list of quality devices is shorter than you'd find with say, hair clippers or even DHT blockers.
Some folks remain skeptical of their effectiveness, but one glance at online reviews reveals that many users report positive results.
That said, we looked at the overall quality of the device, what others said (including users), as well as the price. We also like those that have FDA clearance for safety.
Conclusion
That wraps up another review and, as always, we'd love to hear from you. Have you tried low-level laser treatment? What were the results? We welcome your suggestions and feedback and would love to hear from you.